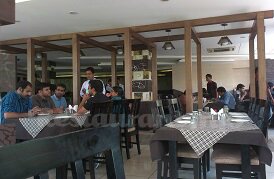 Location : AECS Layout, Brookefields, Bangalore
Contact No. : 080 43692806
Timings : 11 AM to 11 PM
Cost : 600 for two [TAX Extra]
Cuisine : North Indian, Chinese, Continental, Arabian
From the Menu : [Our Recommendation]

Continental

Fried Chicken(2 pcs) [Rs.110]
Chicken Wrap [Rs.110]
Chicken Burger [Rs.90]
Big Crunch Burger with Cheese [Rs.110]
Chicken Strips [Rs.95]

Chinese

Chicken Manchow Soup [Rs.95]
Cream of Tomato Soup [Rs.85]
Babycorn Chilli [Rs.90]/li>
Paneer Manchurian [Rs.105]
Garlic Chicken [Rs.130]
Prawn Manchurian [Rs.215]
Drums of Heaven [Rs.125]
Hunan Chicken [Rs.135]
American Chopsuey [Rs.135]
Egg Fired rice [Rs.105]

Indian

Tomato Dhaniya SHorba [Rs.75]
Cream of Tomato Soup [Rs.85]
Chicken Tikka [Rs.200]
Kadhai Paneer [Rs.95]
Chicken Kolapuri [Rs.130]
Chicken Shahi Kurma [Rs.140]
Murgh Keema Naan [Rs.55]
Chicken Biryani [Rs.135]
Malai Kofta [Rs.100]

This place has a wooden decor, nice & big, having segmented floors for self service & sit-eat. However they claim it an AC restaurant, the AC didn't work. Its all enclosed with glasses & makes a bit stuffy. The place is most likely filled with people.
The food is good. They don't really offer all mentioned in the menu. Chicken Tikka was nicely flavored, and had nice aroma of the tandoor. Chicken Biryani, was a bit Spicy but nice mixture of the rice & chicken.
Their service is a bit too slow. May be at times due to un-manageable crowd coming in. The prices are affordable.
Read More here: