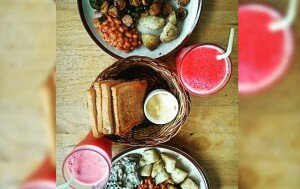 Location :
Koramangala 3rd Block, Bangalore
Timings : 9am to 3pm; 6pm to 9pm
Cost : Cost for two : Rs 600.
Cuisine : American, Cafe
Our Recommendations

Meat Your Maker
The Fat Boy
Chicken Medley
Three Way Breakfast
BBQ Chicken Cheese Omlete
Chocolate French Toast

A brilliant place to start your day with a yummy breakfast. This is a small joint with quiet a decent seating. It isn't great set up, but the food is amazing. It can surely satisfy your cravings for a delectable English breakfast.
They have a lot of varieties for BREAKing-your-FAST. Each bite of the crispy bacon will fill your mouth with deliciousness. All the meat served was sinfully soft and juicy and a must have. They serve chicken, bacon, pork, ham perfectly cooked to a mouth-watering dish. Their juices are freshly squeezed and the watermelon & muskmelon are especially nice.
It offers an All-Day Breakfast without burning a hole in your pocket. Any visit would be a great value for money.