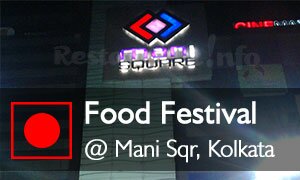 Location :
Mani Square mall, E M Bypass, Kolkata
Timings : Till 20th April: 12 Noon to 8 PM
Price : 200 for two [Rs.61 for any Food item(Inclusive of Tax)]
Cuisine : Indian, Chinese, Tandoor, Italian, Multi-Cuisine
Participating Counters :
Must Have This Time:

Chicken Biryani & Chicken Tandoori From La Griglia
Baked Alaska From From Desserts & More
Non Veg Combos Subba's
Crispy Baby Corn From Subba's
Non Veg Combos From Schezwan Pepper
Mani Square Mall, Kolkata is celebrating the spirit of Baisakh with Baisakhi Blast. This time many shops is giving fabulous discount on their items. Food Court of Mani Square is also came a step forward to pull the crowd, all of the counters (Except Few) are giving their items for Rs.61 only,
Yes ONLY RS.61 ANY ITEM (INCLUDING TAXES)
.
But to get the maximum of it you have to reach their before 1 PM, because during rush hour they may fell short of stock. And this time it's very tough to find a place to seat. AND ONE MORE THING YOU SHOULD KNOW, THAT KFC AND SUBWAY IS OUT OF THIS OFFER.
Read More here: