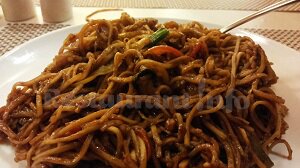 Location : 16th Main, BTM 2nd Stage, Bangalore
Contact No. : +91 80 2678 5734
Timings : 12PM to 10.30PM
Cost : Rs. 300 for two [TAX Extra]
Home Delivery : Available [Minimum order Rs. 300]
Delivers at :
Bilekahalli
BTM Layout 1st Stage
BTM Layout 2nd Stage
Jayanagar 4th Block
Jayanagar 4th T Block
Jayanagara 9th Block
Cuisine : Multicuisine, Tandoori
From the Menu : [Our Recommendation]

Soup

Veg Hot & Sour Soup [₹ 75]
Veg Manchow Soup [₹ 75]

Starters

Baby Corn Chilly Dry [Rs.130]
Gobi Manchurian Dry [Rs.100]
Hara Bara Kabab [Rs.150]
Paneer Chilly Dry [Rs.140]
Alfaham Chicken (Full) [Rs.300]
BBQ Chicken (Full) [Rs.320]
Chicken Kabab (Full) [Rs.190]
Chilly Chicken Dry [Rs.170]
Grilled Chicken (Half) [Rs.140]
Malai Chops (Full) [Rs.320]
Murgh Nizami Tikka [Rs.220]
Pepper Grill Chicken (Full) [Rs.300]

Rice/ Biryani/ Noodles

Mutton Biryani [Rs.190]
Chicken Biryani [Rs.175]
Chicken Biriyani (Small) [Rs.120]
Chicken Fried Rice [Rs.150]
Chicken Noodles [Rs.150]
Egg Noodles [Rs.130]

Non-Veg Gravy

Butter Chicken [Rs.210]
Kadhai Chicken [Rs.180]
Murgh Jalfrezi [Rs.185]
Murgh Tikka Lababdar [Rs.230]
Mutton Rogan Josh [Rs.240]

Veg Gravy

Paneer Makhani [Rs.155]
Sabzi Jalfrezi [Rs.140]
Paneer Manchurian Gravy [Rs.135]
Dal [Rs.90]
Kadhai Paneer [Rs.150]

Marwa situated in a very prime location in BTM 2nd Stage, on 16th Main near Swadisth Ahaar Crossing. Marwa is famous for their Biryani and Tandoor items. The biryani was medium spicy and less oily, the meat was tender. Recently they have started one outdoor takeaway section where they sell tandoor and tawa fried items like Kebabs, Fish and Chicken tandoor etc.
The outdoor section attracts more people. The sitting arrangement and decoration is not that good.