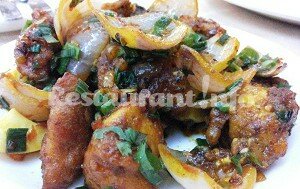 Location : 12th Main, Koramangala
Contact No. : 080 4146 3998
Timings : 12 Noon to 5am; Whole Night Service
Cost : 300 for two [TAX Extra]
Delivery fee: Rs.50.00
Delivery min.: Rs.200.00
Cuisine : Indian Spicy, Non-Veg; Veg
Menu of Nite Out [Our Recommendation]

Non Veg Items

Chicken Kebab [Rs.140.00]
Chilly Chicken [Rs.175.00]
Chicken Biryani Hyderabadi [Rs.180.00]
Chicken Fried Rice [Rs.140.00]
Chicken Masala [Rs.140.00]
Plain Ulte Tawe Ka Paratha [Rs.45.00]
Chicken Roll [Rs.90.00]
Chicken Tikka Sandwich [Rs.100.00]
Chicken Noodles [Rs.140.00]

Veg Items

Veg. Biryani [Rs.120.00]
Veg. Fried Rice [Rs.120.00]
Crunchy Veg Sandwich [Rs.80.00]
Plain Ulte Tawe Ka Paratha [Rs.45.00]
Paneer Roll [Rs.80.00]
Paneer Butter Masala [Rs.120.00]
Baby Corn Manchurian [Rs.100.00]
Veg. Noodles [Rs.120.00]

In a single word Nite Out is The Savior for all the late night party lovers. Nite Out delivers food till 4am in the morning. Nite Out does not have any dine-out option. Only take away and Home Delivery are available. Foods are reasonable at price. Where the other outlets who charges minimum Rs.100 as delivery charges, Nite Out charges only Rs. 50 and there Minimum order value is Rs. 200 only.
There Plain Ulte Tawe Ka Paratha and Chicken Masala are their specialty. 2 Paratha and 1/2 plate chicken is enough for a average eaters. There will be 5 pieces of spicy and tasty chicken and Parathas are also a bit heavy.
"Statutory Warning" for all health conscious food lovers; the foods are oily and heavy too.